Modibo Keïta (4 June 1915. dictatorial president named 'Bagabaga Daba'. Modibo Keita 'Notre liberté serait un mot vide de sens si nous devions toujours.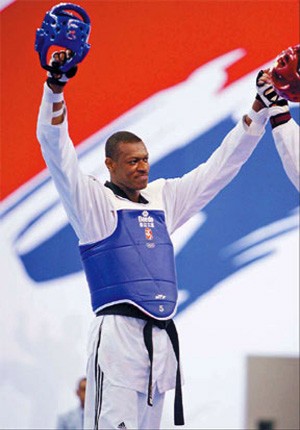 Modibo Keïta was a dedicated Pan-Africanist, an African-nationalist, African-socialist, and first president of the Republic of Mali. His rule of Mali was increasingly repressive, and he was removed from power by a coup d'état after only eight years. Date of birth: 4 June 1915, Bamako, Soudan Français (French Sudan, now Mali) Date of death: 16 May 1977, Bamako, Mali An Early Life Modibo Keïta was born to a Mandinka/Mulsim family in Bamako, then capital of Soudan Français (French Sudan, part of French West Africa). He initially attended school in Bamako before boarding at École Normale Supérieure William Ponty in Dakar, Senegal. Keïta trained as teacher in Dakar, began teaching in Bamako and later in Tombouctou (Timbuktu) 1936. A Life in Politics Modibo Keïta entered the political sphere in the early 1940s, helping to organize a union of African teachers in French West Africa (Syndicat des Instituteurs de l'Afrique Occidentale Française, SIAOF). In 1945 he was presented as a candidate for the Constituent Assembly of the French Fourth Republic with the support of the French Groupes d'Etudes Communistes (GEC, Communist Study Groups) and the short lived local political group, Parti Démocratique Soudanais (PDS, Sudanese Democratic Party). In the same year Modibo Keïta and Mamdou Konaté (who Keïta had met through SIAOF) co-founded the Bloc Soudanaise (BS, Sudanese Party) -- it was quickly renamed the Union Soudanaise (US, Sudanese Union). Keïta became secretary-general of the new party. He also became close friends with Félix Houphouët-Boigny of Côte d'Ivoire. In October 1946 Keïta attended the conference in Bamako which led to the creation of the Rassemblement Démocratique Africain (RDA, African Democratic Rally). The RDA was a trans-national party, stretching across the whole of French West Africa, and the US became its Soudan Français affiliate -- US-RDA. Keïta continued to act as secretary-general of the affiliated party. In 1946 Keïta also came to the attention of the French authorities and was briefly imprisoned for his part in the publication of a political magazine (L'oeil de Kénédougou, 'The Kénédougou Eye') which was critical of French rule in the region. In 1948 Modibo Keïta won a seat in the Soudan Français territorial assembly. After France's suppression of the RDA in the early 1950s, Keïta was placed in internal exile in the Sahara region of French Sudan, teaching nomads near Tombouctou. In 1956, when French views on the RDA had softened, Keïta returned to Paris and was elected to the French Chambre des Députés (Chamber of Deputies, part of the National Assembly) as the delegate from French Sudan. He went on to serve as secretary of state in 1957 (for governments of Maurice Bourgès-Maunoury and Félix Gaillard). Keïta also became president of the US-RDA and mayor of Bamako -- in the 1957 French Sudan elections, the US-RDA won overwhelming victory. With the Algiers crisis in 1958 and decolonization a major issue, France's fourth republic came to an end. Charles de Gaulle who had been prime minister was elected president of France. Modibo Keïta was re-elected as a deputy in the French National Assembly. Independence for Mali During the 1958 referendum in French West Africa, Modibo Keïta campaigned for French Sudan to become an autonomous state within the French Community. He also championed a federation (of French Sudan with Senegal, Côte d'Ivoire, and French Upper Volta) within French West Africa -- which caused a rift with Félix Houphouët-Boigny who was worried that Léopold Sédar Senghor of Senegal would gain dominance. The République Soudanaise (Sudanese Republic) gained internal autonomy within the French Community on 25 November 1958. Keïta became France's first African vice-president. The Federation of Mali, a joining of French Sudan and Senegal (Félix Houphouët-Boigny was successful in keeping Côte d'Ivoire, and French Upper Volta out of the federation) was created on 4 April 1959, with Keïta as prime minister. The Federation of Mali disintegrated on 20 August 1960, due to disagreements between Modibo Keïta and Léopold Sédar Senghor -- as well as various political parties in the two territories. The ruling US-RDA in French Sudan proclaimed a republic on 22 September 1960 and Modibo Keïta became the county's first president. President of Mali Modibo Keïta was an outspoken Marxist and implemented a string of socialist policies during his rule of Mali. He quickly severed relations with France and the West, and received very marginal support from Europe and the US during his rule. Although he had political backing from the Soviets, encouraging him to nationalize banks and other sectors of the economy (including creation of village co-operatives), he received only minor financial aid from the USSR. In October 1960 Keïta created the Societe Malienne d'Importation et d'Exportation (SOMIEX, Malian Import and Export Company) which was granted a monopoly over exports of Malian cash crops and manufactured goods, as well as the import of foods and their distribution. Mali suffered economically as a consequence, and was considered one of the least developed countries amongst the newly independent nations of West Africa. Keïta pulled Mali out of the Communauté Financière Africaine (CFA) franc zone and established the Malian franc in 1962; a move which lead to rapid inflation and social unrest. Modibo Keïta's regime was repressive: he created the milice populaire, a militant youth organization which was used to repress popular local opposition -- opposition parties were effectively banned. Keïta as a Statesman In early September 1961Keïta attended the Non-Aligned Movement conference in Belgrade, and met with President Gamal Abdul Nasser of the United Arab Republic and Benyoussef Ben Khedda President of Algeria (as well as several other notable African statesmen). He then flew to the US where he met President John F Kennedy (who he always regarded as a friend). In 1963 invited the king of Morocco and president of Algeria to Bamako for discussions in the hope of ending the Sand War (Morocco was claiming the Tindouf region that France had allocated to Algeria on independence). A ceasefire, eventually negotiated by the Organization of African Unity (OAU) under the leadership of Haile Selassie, resulted in the Bamako Accords of 20 February 1964. Keïta never gave up his belief in Pan-Africanism and Unity, and he attempted several more unions with other west African states, none of which developed. Road to Removal By 1967 Mali was experiencing growing economic and financial problems. Keïta tried to enlist help from France for the Malian currency -- a move which aroused discontent within his party. In the end the Malian franc was devalued, causing civil unrest, and Mali rejoined the CFA. In August Keïta launched a cultural revolution, the Révolution Active, inspired by Mao Zedong's revolution in China -- but his purges and authoritarian tactics estranged most of the population. On 19 November 1968, in response to an intended purge of military and government leadership, he was removed by a bloodless coup, led by General Moussa Traoré. Modibo Keïta spent all but the last few weeks of his life in detention in the northern Malian town of Kidal. He died on 16 May 1977. In the 1990s, following the overthrow of Amadou Toumani Touré's military government by Alpha Oumar Konaré, Keïta's reputation was rehabilitated. A monument was erected in Bamako in June 1999.','url':'http://africanhistory.about.com/od/mali/a/Modibo-Keita-Biography.htm','og_descr':'Devout Pan-Africanist, African-nationalist, African-socialist, and first president of the Republic of Mali.
Modibo Keita, (born June 4, 1915, Bamako, French Sudan [now in Mali]—died May 16, 1977, Bamako, Mali), socialist politician and first president of Mali (1960–68).
Daba Modibo Keita. Full name: Daba Modibo Keita Gender: Male Weight: 229 lbs (104 kg). Biography. World Heavyweight Champion 20. Results. Games Age City.
Modibo Keïta was a dedicated Pan-Africanist, an African-nationalist, African-socialist, and first president of the Republic of Mali. His rule of Mali was.
Biography of Modibo KEïTA Mali > Politics : Modibo KEïTA. Click on a picture to enlarge. Biography : Modibo keïta ((4 June 1915 -).